Rachel Funari – in Memoriam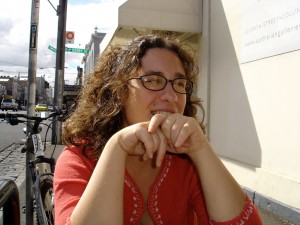 Rachel Funari went missing while backpacking in Tasmania and was last seen on March 3 2011. Given the rugged wilderness area she was in and the searches conducted she is, in all likelihood, dead. More information here. Most recent police update. But she is more than one event, stuff Rachel did.
I first met Rachel at the Banana (Canberra, Australia). The Banana was at S&E's place and was a large, yellow corner couch that could envelop a dozen people with ease. The Banana was an institution, after a pleasant night out with friends someone would say "Banana?" to which the reply was invariably Banana. Towards the end of my degree the Banana was often where I would be, for tea, coffee, comics and politics. E introduced me to great indy comics like Dykes to Watch Out For, Joe Sacco's Palestine and what felt like half the back catalogue of Fantagraphics.
And it was on the Banana that I met Rachel Funari. She had a prophet-like glow to her eyes and E was so excited to finally introduce us. Rachel had the insane passion to start a magazine. I was bowled over by Rachel's determination, passion and how she was going to make it happen come hell or high water. Her own lip magazine. …