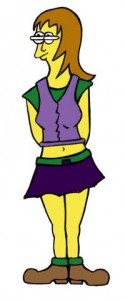 A zombie love story, a seed that breaks through and changes the world, the quest to be cool through the power of snake skins or the disillusionment of of a nuclear physicist are a few of Liz's tales. Dark and macabre or playful and delicious – she writes stories about hope, strength, survival and change.
Liz often writes speculative fiction and interstitial work that explore spaces between genres. She is especially fond of gritty urban fantasy, thought provoking science fiction and fantastical literary fiction.
Liz carves out a diverse career as a freelance writer, working with organisations to build communities and running workshops. Liz has run creative workshops for a range of organisations, including the National Museum of Australia, Conflux and the Young Music Society. She works with organisations to prepare and acquit grants, and to build physical and online communities. She has worked on and off as an Artists' Model for ten years. Before she became a freelancer she worked as researcher, union organiser, refuge worker, circus manager and provided consulting and support to the community sector.
Liz's comics have been published in an array of publications, including Meanjin, The Girl's Guide to Guy Stuff, Eat Comics, Something Wicked and her collection Songs, Dreams and Nightmares. Her anthology, Dreams of Tomorrow, won a Bronze Ledger Award for Small Press of the Year. In January 2009 her musical Comic Book Opera, written with composer Michael Sollis, was performed for the first time. Two of her short stories have been staged as plays.
She splits her life between Australia and America – some day she hopes to live in other parts of the alphabet. After serving as a Non Skating Official with the Rat City Rollergirls for three seasons she has transformed into skater and announcer. When she's on the track you can call her Betsy Nails, when you hear her over the mic she's Ichabod 'splain.
Interviews available on the interwebs
This is what she looks like sometimes: