Mid-December Roundup – Thanksgiving, shows, publishing, audio
Mid-December Roundup – Thanksgiving, shows, publishing, audio
Well Thanksgiving was a blast, and my strange fears totally unfounded. We attended two vegetarian thanksgivings with delightful company at both. A Thanksgiving that included a small child talking about how Earth is the best planet and Venus is the worst planet (because Venus will crush you with its enormous gravity) gave me strong hopes for the new generation. I highly recommend at least renting a child of this type for all such occasions.
'tis the season of festivities and events. Lee and Annaliese Moyer (our lovely hosts who kindly keep us in their basement) have both just had shows open. Lee is showing at the Radio Room and last night we went to the opening of Elementum, which is showcasing Annaliese's photography. Mike took photos of her art with his iPhone, I love how you can see the reflection of happy viewers in the glass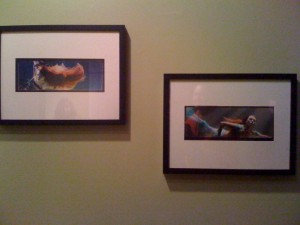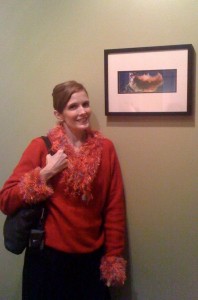 In other delightful news Cracked Leather be published in The Pedestal Magazine on 21 December. Cracked Leather was the first story I wrote at Clarion Writers Workshop, I wrote it during Holly Black's tutelage and it was critiqued under the care of Larissa Lai.
Love and Spandex, a comic I created with Ben Hutchings, has just come out in Tango – Love and War, the ongoing romance comics anthology by Cardigan Comics. This edition shared it's launch with The Tango Collection launch, which has been published by Allen and Unwin. It's a fantastic recognition of the hard work Cargdigan Comics have done over the years bringing together diverse, independent Australian comics. I heard the launch was fabulous and would expect nothing less.
And finally, if you would like to hear my dulcet (or not so dulcet) tones you have two options! The Comics Spot back in Melbourne have been putting up podcasts of shows. It's jolly good all round and you can hear my pre-departure interview, chat, with the crew – talking about grants, writing, America and why Portland and many other things.
You can also hear a small snippet of me describing the Hawaiian shirt I was wearing at the Jay Lake recording during Orycon. The snippet is in Banter 2, but you should really check out the other recordings as a source of delight. Mary Robinette and her stalwart crew did a fantastic job reading stories by Jay Lake (different fab writers doing the voices of different characters and Mary Robinette as the narrator). I am astounded by the sound quality of the recording given the terrible acoustics of the space. I imagine that is a big bravo to Robert Kowal, sound guy, for doing such a splendiforous job.
I hope you all have a happy and safe festive season and a joyous 2010.