Fogcon Machine
Fogcon Machine
This weekend I'll be zooming down to Fogcon down in California. I'm pretty excited about all the great people and conversations I know I'm going to experience.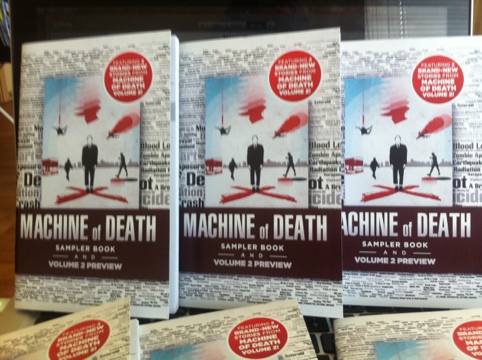 Speaking of fabulous people a care package from the Machine of Death crew has just arrived. Machine of Death likes the postal service. I will have copies of the Machine of Death sampler book and Volume 2 preview. There aren't many copies left in the land of America, but if you come to the reading I will gladly give you a copy (and possibly impersonate the T-Rex that inspired the whole Machine of Death adventure).
I had a chat with Matt about things that inspired my Machine of Death story. Pop over to their website and you can check it out.
Fogcon Reading – 8pm, Friday, March 30 in the Santa Rosa Room.
Many fine words with by Vylar Kaftan, Liz Argall and Christie Yant
Fogcon Panel – Loving Something Problematic, 9am Sunday, April 1 in Salon B/C.
Most of us have at least a few books, movies, or TV shows that we love that are also problematic in their depiction of race, gender, class, or something else. How can we be fans of these things while still acknowledging their flaws? How can we discuss the flaws in these works without incurring the wrath of devoted fans?
Moderator: Liz Argall, Panelists: M. Christian, Andrea Blythe, Carolyn Cooper, Nalo Hopkinson