Start of Week 5!!! – with unexpected challenges and potential prizes
Start of Week 5!!! – with unexpected challenges and potential prizes
Things without arms and without legs continue – I'm waiting for new styluses to arrive, but in the meantime you can at least enjoy animated giffs of the Things.
One of my unspoken ambitions of the Write-a-thon was to set up a standing desk and USE IT. It's working really well, although I should lower the keyboard section another notch. In lieu of pulling out the drill again I have used the problem as an excuse to increase my time on roller skates.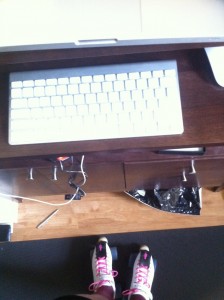 Writing in roller skates is a painful kind of fun and since taking this photo I have got rid of the yoga mat. It was supporting me way too much and I wasn't working any muscle groups. The slippery linoleum is much more interesting, though boy are my calves and hamstrings tired! Before I let myself post this I had to stand on one foot for 30 seconds a side.
…hmmm, you know what?
NEW CHALLENGE MODE UNLOCKED!!!
It's time for this write-a-thon to get physical. For the final two weeks, if anyone sponsors me for $20 or more, not only will they get to pick my priorities, they can also ask me to perform that task while on roller skates OR while standing on one leg (I will be allowed to alternate legs as required) OR (if you're feeling kind) a combination of both… 'cause that's how I roll.
Furthermore, if I am awesome enough to raise $100 this week and earn myself some tasty tasty books ALL of my sponsors go in the draw to win the book I earn.  If we bring enough awesome to the table fast enough we'll win a first edition copy of one of the following:
The Clarion Awards, edited by Damon Knight (1984) and including stories by Nina Kirirki Hoffman and Lucius Shepard;
Better Than One, by Damon Knight and Kate Wilhelm (1980), inscribed to "Dave" by both Damon and Kate;
The Day The Martians Came, by Frederick Pohl (1988);
Among the Dead, by Ed Bryant (1973);
and What I Didn't See, by Karen Joy Fowler (2010).
Who doesn't want a book made out to "Dave"!!!
Hugs, love and building strong ankles
Liz
PS: I just realized I made a pun – that's how I roll, ROLL! Hilarious! :-)