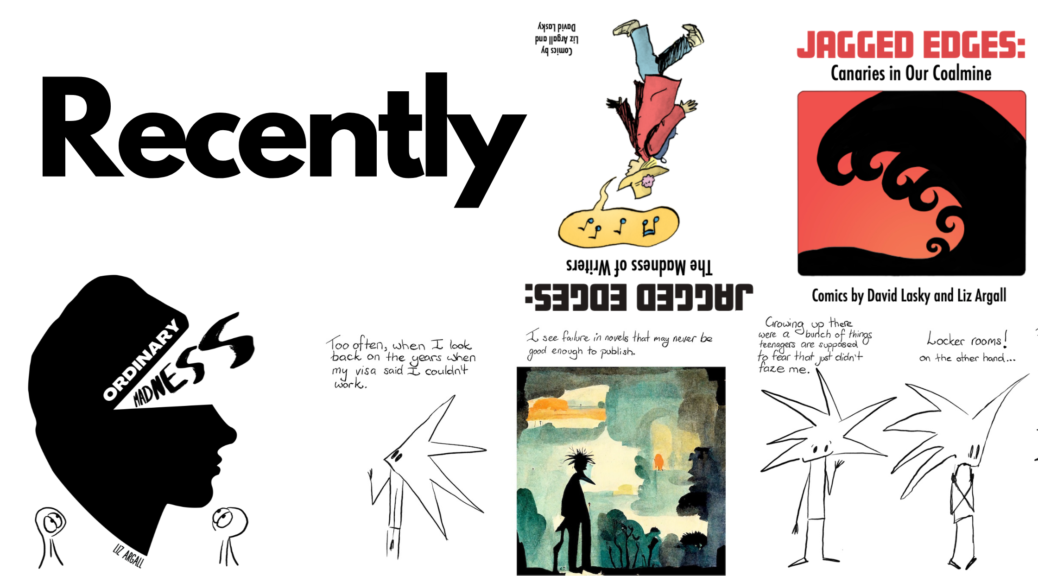 Magnets! Ordinary Madness, New Comics!
Magnets! Ordinary Madness, New Comics!
Hi lovely humans, I hope everyone has managed to grab some nourishing moments in the last couple of months.
Me, I've been so wowed by the wonderful responses to my comic. It's been so terrific to see Ordinary Madness and Jagged Edges so warmly received. I'd like to send an extra special thanks to the therapists and other caring folks who've purchased extra comics to give to folks or have floating around as a resource. I wasn't expecting that, and I'm honored and humbled.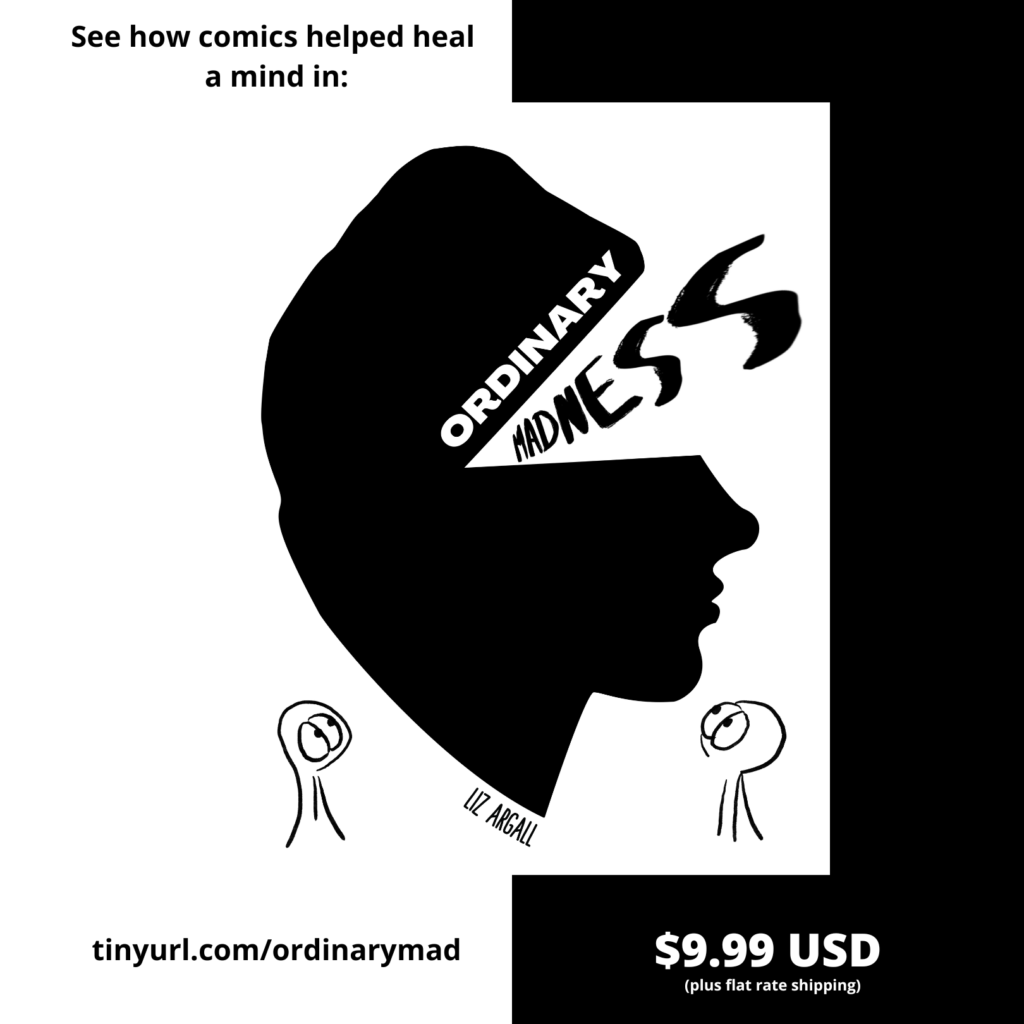 I'm really glad Ordinary Madness has been something joyful and mind opening for so many folks. When you're an artist, I think being of service is one of the highest things you can achieve.
Since I published Ordinary Madness I've been exploring a few other concepts and building on what I learned in its creation. Some are longer works that aren't ready for the world (although Patrons can get sneak previews), but I've published a few shorter works over on my Patreon. They're free for anyone to read and anyone can subscribe to the public feed. New comics published on Patreon include: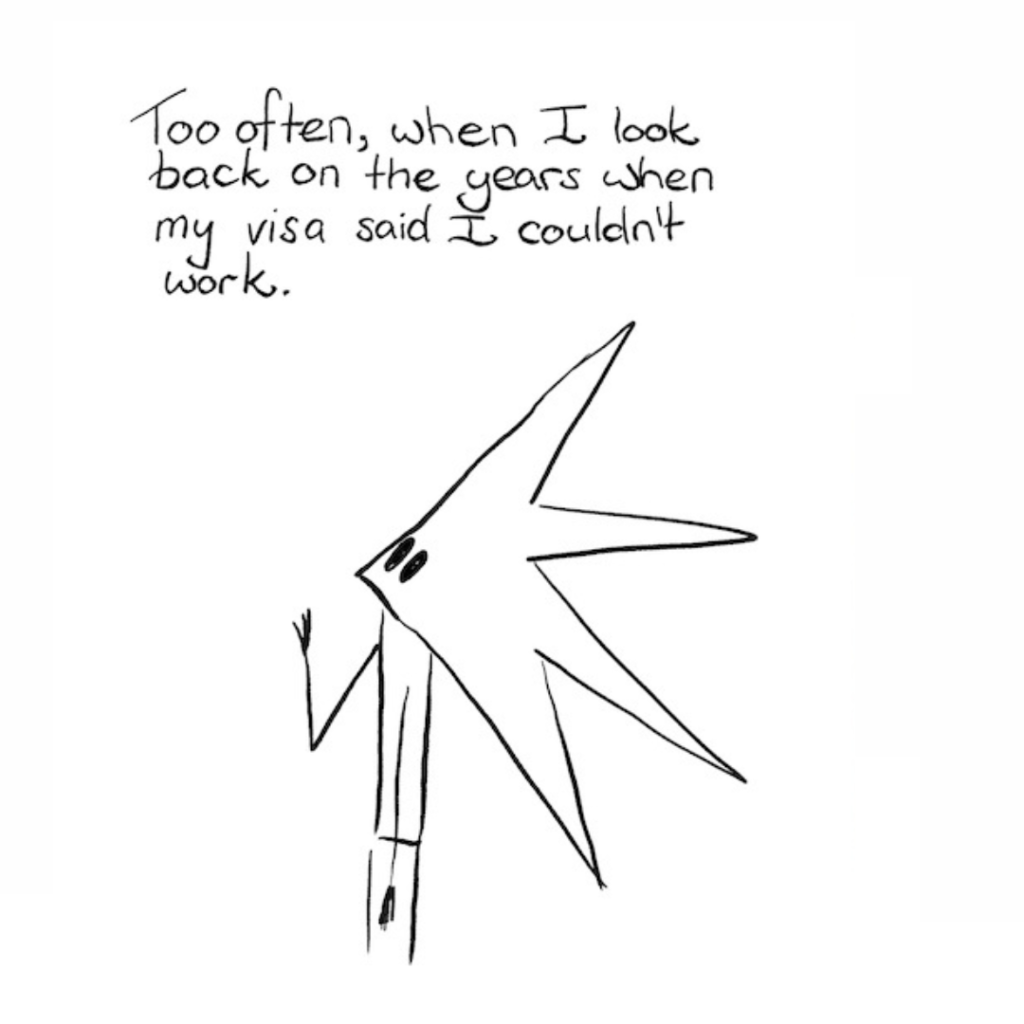 Lost Time, it's easy to get down on yourself and not see what you've achieved. A nice bit of perspective, that I was finally able to draw by collaborating with Midjourney. Midjourney is an AI that generates art based on prompts. It took me much longer to create a comic this way, but I'm very pleased with the result.
Locker Rooms – my experience of locker rooms as a teen!
In Memoriam – Ladders – how I process things when someone suddenly and unexpectedly dies
Reflections – what it's like seeing a homeless person ranting to themselves, now that I know what it's like to rant to yourself on the street
If you become an actual Patron you'll get to see work before its published as well as special behind the scenes content (including pages I couldn't fit into Ordinary Madness), access to a password protected experimental page and occasional special discounts in the store. For example, Patrons get free shipping on "A Sad" magnets for this month.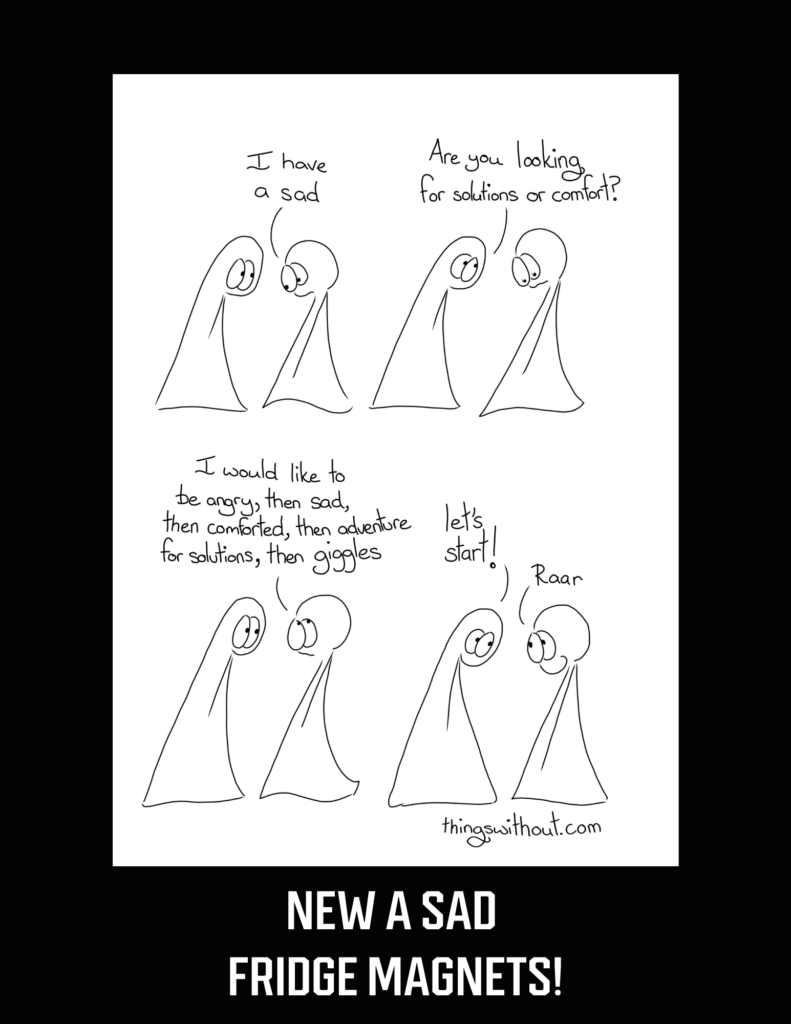 Speaking of which! You can now buy "A Sad" magnets in the store! A little bit of joy, feeling seen, and a reminder of stuff I still forget sometimes, for your fridge.
They're $5 plus flat rate shipping (or free shipping if you get the discount code by becoming a Patron… in which case I ask you to pinky swear you'll stick around for at least a few months!).
Sadly, I can only ship to the USA right now. I use a super secure commerce platform that is so secure it keeps thwarting me when I try to ship to other countries! If anyone is a WooCommerce in WordPress expert who wants to help a sister out, please drop me a line!
Thanks for stopping by, if you haven't yet, I encourage you to order (or review) Ordinary Madness. Feedback from folks so far includes, wow, wow wow wow, insightful, extraordinary and terrific!… also, there are one or two typos that slipped through, thank you friends for pointing them out. All kinds of feedback is helpful and appreciated.
Good things
Liz