Love Letters to Inanimate Objects – Clarion Writeathon
Love Letters to Inanimate Objects – Clarion Writeathon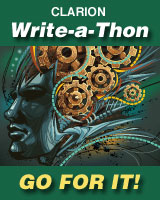 Define a love letter for $20
Head on over to Objects of Love to see new work emerge. It's not too late to sponsor an object!
Clarion Writers Workshop Write-a-Thon runs concurrently with the workshop (June 26 to August 6, 2011) and raises money to help the workshop exist and enable scholarships for new writers. Scholarships helped me attend the workshop in 2009. I will be participating and you can make a donations over on my profile page.
You can sponsor me a random amount, no strings attached. You can sponsor me for a certain amount per word (you can cap this amount if you wish).
Or for $20 you get to determine the object of affection of one love letter.
You, the donor, will be e-mailed a copy of the love letter ahead of everyone else. The love letter will then be made available on my website and available to share under a Creative Commons Attribution-NonCommercial-NoDerivs 3.0 Unported License.
Think of something inanimate, as mundane or strange as you wish and help me raise money to support the development of wonderful new emerging writers. I have a few challenging objects bubbling and boiling. I look forward to seeing what else gets thrown at me (you can tell me early, but I think it's even better if you wait until we launch into it on June 26)
So please sponsor me, we'll have a lot of fun!
… also, if you do sponsor me you are automatically entered into a raffle to win sweet prizes!