Nothing to Prove
Nothing to Prove
Oh wow, I love this song. When I saw it on Scalzi's blog I expected it to be a fun affirming song to start my day with. I didn't anticipate crying for the whole song while smiling.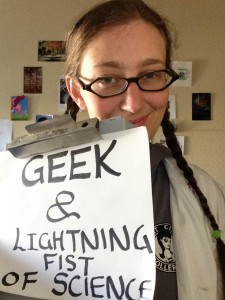 I didn't realize how much I needed to hear this. Proving yourself can just become second nature.
There were conversations with perfectly nice human beings I didn't have a party recently, because I didn't have the energy to prove myself. I probably didn't need to prove myself with some of them, but I didn't have the energy to roll the dice and find out. I stuck to the safety of my own gender when it came to strangers and I remember thinking – "I should chat to some of the guys, but I don't know if I'll have to push to get over a threshold and prove that I'm human. I just can't cope with that right now." As I was leaving I briefly chatted to two of the guys who were bantering with a mutual friend and thought "These guys are awesome! This feels easy and natural, there is no proving here. I should have introduced myself and now it is too late."
There are things that can be challenging about social interactions for folks of all genders, but if you get exhausted, just want to feel effortlessly human and return to the safety of your gender/ethnicity/morphology/socio-cultural-formation in a "networking" (uggggh, I hate that word) situation it's a lot easier if your category has more people with power in it.
… anyway, what a nice anthem and assertion of space. We are here, we are, and maybe, if we stand strong enough, that can be enough. Thanks Doubleclicks!