ALL THE DERBY
ALL THE DERBY
Sooo, you'd like to see me play Roller Derby, or would you like to support me skating many many laps either in person or from afar (in person having the bonus that you can enter a cookie decorating competition AND/OR help make posters to support our all stars at divisionals). BOTH options are available!
23 August – Napolitano Icecream of Derby aka THE THREE RING CIRCUS



On Saturday 23 August Rat City will be hosting the Three Ring Circus. The final game of the night will be Rat Lab, THAT'S MY TEAM the fresh meat/rookie development team of Rat City, playing Puget Sound Outcast's B team. Puget Sound Outcasts are one of the top men's teams in the world. We won't know who's on the roster until closer to the date, but I'll be working really hard to be out there playing this game. It would be really cool to have people come out and support us, in what will be a very physical boys vs girls game cheering will be really helpful.
If that's not cute enough the between game entertainment will be an exhibition game by the Tootsie Rollers, under twelve roller derby.
More info on facebook (where shiny updates will happen etc).
More info on the website.
30 August – Rat City Roller Girls Skate-a-thon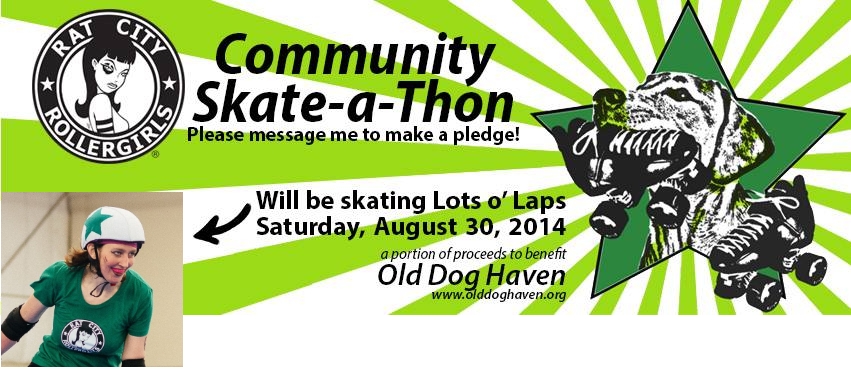 The night will be full of cookie decorations and poster making AND lots of skaters (including yours truly) trying to skate as many laps as they can in one hour. I've never done a skate-a-thon before, so I'm going to set my minimum number of laps at 200 and try to stretch up as close to 300 as I can!
I need sponsors to justify my presence on the track and to give myself something to think about as I skate for a very long time. Money raised will help Rat City and Old Dog Haven. Please contact me, either in comments, e-mail or in person and I will write your name onto my awesome sponsors list.
If you would like to come skate with me at the skate-a-thon all you need to do is grab one sponsor and you can join me on the track (hit me up for paperwork).