Yesterday I was re-reading a story of mine as I was working on a creative residency application. "Soon She Will Be Forty" still makes me tear up, and reading about the life of a derby player has extra resonance right now.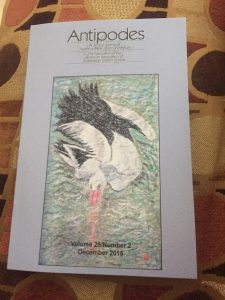 The postie made a clatter when he dropped off mail and parcels. I went to the door and one of the packages was my contributor's copy of Antipodes, Antipodes, the official journal of the American Association of Australasian Literary Studies. It was so strange to have just read a story, and then hold in your hands the book it was published in.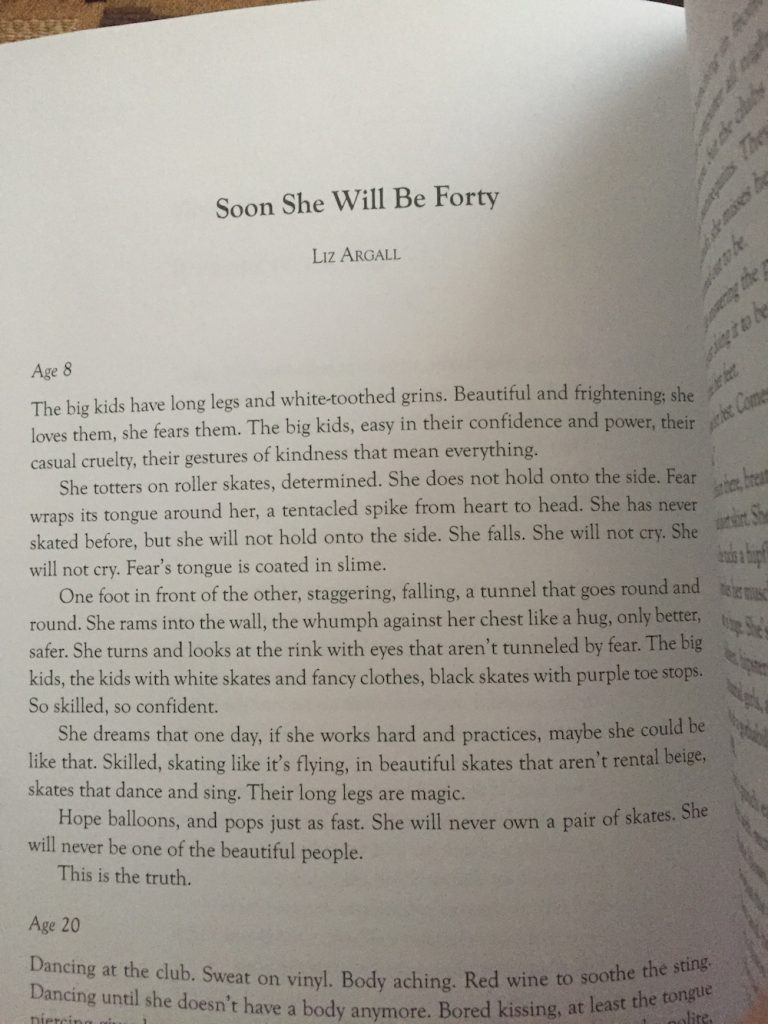 I laughed out loud when I saw the book. Yesterday and the day before I'd gone on a bit of a Peter Allen binge. The opening of the 2009 version of "I Still Call Australia Home" is so beautiful:

I'm always trying to find the perfect cover of Tenterfield Saddler. There is something in it that speaks to my Australia. It has that ache of big country hurt by drought and flood. It has an elegance of emotion that comes from talking simply, yet poetically, about people. It's a specific story about Peter Allen's grandfather and father, and Peter Allen's own complicated relationship with home. That specificity gives us the space to feel so much, to connect to bigger things.
I cry every time I hear Tenterfield Saddler. Love mixed with sorrow; that connection to land, the passing of time. It comes out in stories like Falling Leaves, Blunt Force Trauma Delivered By Spouse, and A Study in Flesh and Mind. It is why I asked that these stories be narrated by Australian readers when they're selected for podcasts. To me, you can taste the Australian soil in them, a grief and love.
Kuisi and You is about PNG, but Australians singing about war, humanizing the loss, that's something that's been in my bones ever since I heard Eric Bogle sing The Band Played Waltzing Matilda (some day I'll dust off my guitar and do an open mic that's these songs, and I Was Only 19. I'm sure David Morrison would approve of a woman owning these.)
Australian musicians are often my comfort food, Liz Frencham, Fred Smith, Baterz, Spooky Men's Chorale, Mal Webb, Judy Small (who has retired after 30 years because she has no time now she's a circuit judge!), Uncle Kev Carmody (who once told me to keep singing, because there need to be more women telling their stories. The most generous storyteller I've had the pleasure to listen to), Tim Minchin, all the rockers from Divinyls to Hunters & Collectors to Paul McDermott singing Hunters & Collectors, endless JJJ Hottest 100, memories of the National and Major's Creek, to name a few.
It was nice to get Antipodes in the mail, good to see a story I love so much in print. That story is a love letter to many things, and good timing to hear the final question the story asks.
I haven't been able to get home for five years, but Australia will always be in my bones.
And a little bit more from Fred Smith about his expat life when he was in DC ;-)